SHUTTER & DOOR HARDWARE OPTIONS
Making Forged Metal Meet Hand-Crafted Wood Since 1851….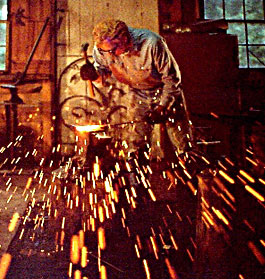 In memory of our friend, mentor, and colleague
William G. Greene, Blacksmith
Brandywine Valley Forge
1946-2022
Early shutter and door hardware was hand-forged by blacksmiths. The leading technology of the period found many skilled smiths hammering hardware from iron bar stock in Early English factories. Their output was shipped to the colonies on English ships and sold into the American market. This trade was defined and supported by English law. It was illegal for Colonials to produce finished iron goods. Hardware of English import was common in coastal American cities frequented by English ships making imported products readily available. Moving further inland, more hardware of local manufacturers was found. Overland transportation was very expensive, and inland settlers were far removed from the arm of English law. Hardware produced in the colonies typically displayed wide variation in form, often reflecting the cultural influence of the settlers' homelands.
Perfect Hardware Form & Function Become Reality
At Beech River Mill we are fortunate to have great working relationships with the most well respected blacksmiths, and hardware manufactures in the country. In addition to our own 160 plus years of experience in mating the perfect piece of hardware to the perfect shutter design, we rely on their industry leading expertise in making forged metal meet handcrafted wood seamlessly. When discussing appropriate period shutter and door hardware for your project there are several key points to consider:
Is your application aesthetic, or does it need to be functional?
Are there historical mandates regarding hardware for the area you live?
What environmental concerns are present – for example a coastal salt water climate?
Are there time or financial constraints on your project if you wish to involve blacksmiths?
Once these key points are accounted for, and you have a general idea of how you wish to proceed, please give us a call or send us an e-mail and we can help you with your hardware needs!